The City of San Diego is holding Community Open House Meetings June 14th and June 20th, 2018, 6:00 PM – 8:00 PM at Black Mountain Middle School MP Room and Canyonside Recreation Center MP Room.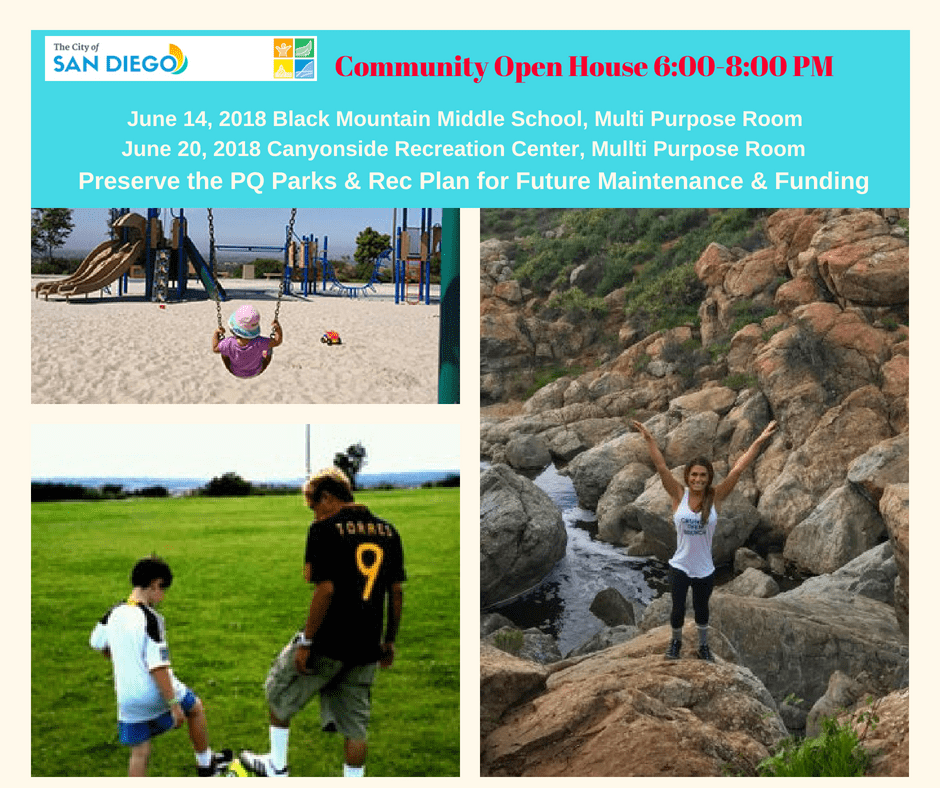 THE CITY OF SAN DIEGO PARKS MASTER PLAN

Help us spread the word about the Regional Workshops in June!     Forward this message to friends, neighbors, and colleagues.
WHAT DO YOU THINK ABOUT YOUR CITY PARKS?
GET INVOLVED!
We are holding 10 Regional Workshops across the City of San Diego. Pick a date and location convenient for you to come to learn about the Parks Master Plan and provide your input.
Para obtener información sobre los talleres regionales en español, haga clic aquí.
Open House format.
Come any time between 
6:00pm to 8:00pm
Wednesday, June 6, 2018
Linda Vista Recreation Center, Auditorium
7064 Levant St, San Diego, 92111
Monday, June 11, 2018
Robb Field, 
Jim Howard Hall Meeting Room
2525 Bacon St, San Diego 92107
Tuesday, June 12, 2018
San Diego Central Library,
Shiley Special Events Suite
330 Park Blvd, San Diego, 92101
Thursday, June 14, 2018
Black Mountain Middle School,
Multi-purpose Room
9353 Oviedo St, San Diego, 92129
Monday, June 18, 2018
Mid-City Gym
4302 Landis St, San Diego, 92105
Tuesday, June 19, 2018
Skyline Hills Recreation Center, Gym
8285 Skyline Dr,  San Diego, 92114
Wednesday, June 20, 2018
Canyonside Recreation Center,
Multi-purpose Room
12350 Black Mountain Rd, San Diego, 92129
Thursday, June 21, 2018
Standley Recreation Center, Gym
3585 Governor Dr, San Diego, 92122
Monday, June 25, 2018
Golden Hill Recreation Center, Gym
2600 Golf Course Dr, San Diego, 92102
Wednesday, June 27, 2018
San Ysidro Community Activity Center, Gym
179 Diza Rd, San Diego, 92173
You can also provide input in multiple languages at: