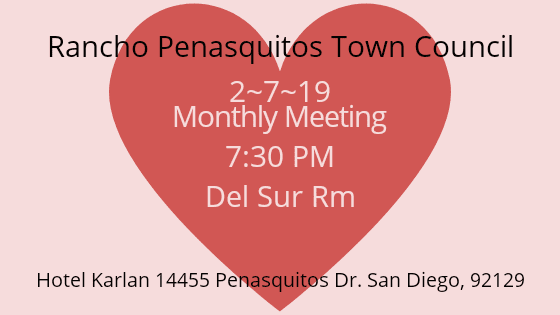 The Rancho Peñasquitos Town Council (RPTC) will hold our next meeting this Thursday, February 7, 2018. The meeting will be held at the Hotel Karlan (Doubletree Resort), 14455 Peñasquitos Drive; San Diego, CA 92129 in the Del Sur Room* at 7:30pm.
Enclosed is the Agenda for our February 2019 Monthly Meeting. All are invited and welcome!
Upcoming Community Events (see attached, for complete meeting agenda)
Rancho Family YMCA Farmers Market – Every Saturday @ 9:00am – 1:00pm in the upper YMCA Parking Lot

Father / Daughter Dance – February 15, 2019 6:30pm – 9:00pm at Black Mountain Multi-Purpose Center, Cost $10 at the door.

PQ5K Community Fun Run / Walk – Saturday, May 4, 2019 starting @ the LDS Chapel on Black Mountain

Rancho Penasquitos Fiesta  – Sunday, May 5, 2019 Black Mountain Road
Our meetings are open to the public. Feel free to redistribute this email. In the near future, we will be transitioning to solely publishing the agenda on our website as well as pushing it through a third party e-mailing list. We will have subscription sign-ups as well in the near future. Please stay tuned.
Sincerely,
Elijah Nicolas
President