Thinking of local kids in need, Pre-K – High School right in our community.
We are helping 4 Community Care get the word out about this amazing Stocking Stuffer Donation Drive to help these children receive a Christmas Stocking to lift their spirits and brighten their holiday.
Here's how you can help: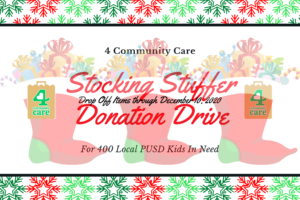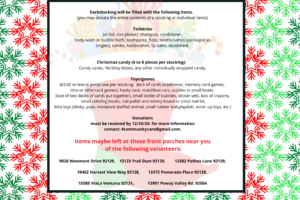 Each stocking will be filled with the following items. 
(you may donate the entire contents of a stocking or individual items)
Toiletries (all full size please): shampoo, conditioner, body wash or bubble bath, toothpaste, floss, toothbrushes (packaged as singles), combs, hairbrushes, lip balm, deodorant.
Christmas candy (6 to 8 pieces per stocking):  candy canes, Hershey kisses, any other individually wrapped candy.
Toys/games ($3.00 or less in price) one per stocking: a deck of cards (traditional, memory card games, Uno or other card games), hacky sack, matchbox cars, puzzles in small boxes (size of two decks of cards put together), a small bottle of bubbles, sticker sets, a box of crayons, small coloring books, nail polish and emery board or small nail kit, little toys (slinky, yoyo, miniature stuffed animal, small rubber ball, playdoh, wind- up toys, etc.)
Donations must be received by 12/10/20– for more information contact: 4communitycare@gmail.com.
Drop Off Items on the front porches of the following Volunteers

:
9025 Newmont Drive 92129,
13123 Trail Dust 92129,
12382 Pathos Lane 92129,
10462 Harvest View Way 92128,
12472 Pomerado Place 92128, 
15585 Via La Ventana 92131,
13991 Poway Valley Rd. 92064