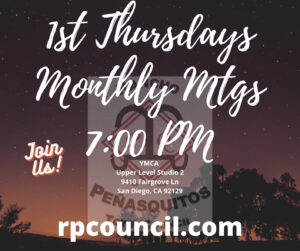 Attention, residents of 92129! If you are interested in joining us for a town council meeting, you are more than welcome. The meeting is scheduled to take place on November 2nd, 2023, at 7:00 PM. It's a fantastic opportunity for you to voice your opinion, learn more about your community, and contribute to its growth and development.
Our meetings are an open forum where we discuss various issues affecting our community. We encourage everyone to participate, share their ideas, and express their concerns. Your input is valuable to us and can make a significant difference in our decision-making process.
The meeting will be held at the YMCA upper-level building, specifically in Studio 2. The address is 9410 Fairgrove Ln, San Diego, CA 92129. It's a spacious, comfortable space that can accommodate a large gathering.
We strongly encourage you to join us and get involved in your community. By attending the RP Town Council meetings, you can stay informed about the latest developments in our community, contribute to important discussions, and influence the decisions that affect you and your neighbors.
Let's work together to make our community a better place to live. We look forward to seeing you at the meeting on November 2nd!
Meeting Agenda,  RPTC 11.02.23 Agenda