RP Town Council February 6th, 2020 Meeting
Hello Rancho Peñasquitos,
Our February 6th, 2020 monthly meeting will be held in the Community Room at the RP Public Library at 6:30 PM.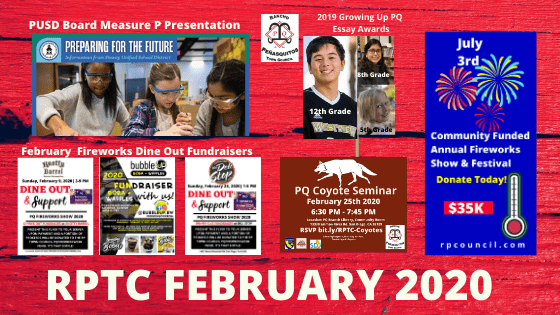 We have two presentations for you tonight: The PUSD Board will be doing a presentation on the upcoming bond Measure, P and for Safety, Security and Success in our local schools and a special 92129 Magainze Awards Ceremony for the 2019 Growing Up PQ Essay Contests.
See our Community Calendar for upcoming DINE OUT Fundraisers for the Fireworks Show, https://rpcouncil.com/about-the-town-council/council-calendar/
This is the time of year we begin to really get excited about the 25th Anniversary Fiesta de los Penasquitos in May and our new summer event, the Community Funded PQ Fireworks Show & Festival.
Tonight's Agenda