Our Community came together for the 24th Fiesta de Los Peñasquitos weekend May 4th and 5th, 2019.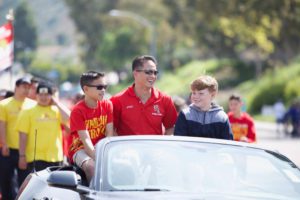 Our families, neighbors, friends, associates, and dignitaries opened our home town with a sense welcome to all our Fiesta visitors. Gail Miller, MCHS Science Teacher and Wrestling Coach was our Fiesta Parade Grand Marshall. His credo is a shining example of the unity we promote throughout all our neighborhoods, 'We are better together'.
Thank you to all of you who got up really early to volunteer for this year's PQ5K Fun Run and Pancake Breakfast, and Parade set up and tear down on Sunday. We really appreciate all the students and scouts who took the opportunity to contribute and gain Community Service hours.  You did a fantastic job directing traffic and all the prep work  Saturday and Sunday mornings of the Fiesta weekend.  It really does take a village and so many had a fantastic time meeting new friends and 'giving back' to help make the Fiesta weekend events come to life.
We have a few video clips highlighting the community stand-outs and award winners who have gone above and beyond to 'give-back' in their own special way to Rancho Peñasquitos. Take a look, share, comment, and click this link  Fiesta Business of the Year, Volunteer of the Year and Bayou Brothers
Volunteer's of the Year goes to Ken & Trish Wolsey for their contribution and organization of the PQ5K Fun Run for the last 11 years. 
The

Business of the Year

goes to Dr. Lee, Carmel Mountain Dental Care for the continuing support of local school clubs and teams. 
Youth Community Service Award Winners: 

Trayton Nguyen and Jonah Levy – Sunset Hills Elementary
Zoe Williams – Sundance ElementaryDeklyn True – Rolling Hills Elementary
Victoria Barker – Park Village Elementary
Ashley Palacios – Los Penasquitos Elementary
Lisa Thakkar – Deer Canyon Elementary
Pranav Muthukumaran – Canyon View Elementary
Lily Bryan – Mesa Verde Middle School
Christopher Episcopio – Black Mountain Middle School
Allison Lehn – Mt. Carmel HS
 Leona Hariharan – Mt. Carmel HS
Graphic Designers

– Poster Design, T-Shirt Design and Event Posters Westview High School

Huy Vu
Mason Bartelt
Emily Merklinger
Event Photography – Please take a look at all the amazing photos of the weekend events captured by

Franklin Lopez Photography,

our in-kind Community Partner. See some amazing shots of our special weekend and those who made it all possible.  Check out all the highlights here, https://www.franklinlopezphotography.com/PQ-Fiesta/ and https://www.franklinlopezphotography.com/PQ5K/
We appreciate the community support and to all who gave a few hours to bring this Fiesta weekend together! We are better together. Giving back matters and we thank you for the opportunity to celebrate with you and host another fantastic year of home town entertainment.  There Is No Place Like PQ!