Let The Games Begin!

School Spirit Competition Starts Now
We've got spirit yes we do! We've got spirit how about your school?
How much spirit does your school have? Prove it by donating a few bucks to the PQ School of choice. The school with the most donations wins the
$500 GRAND PRIZE !
100% of donations go directly back to the schools.
---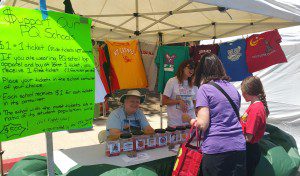 Eligible schools include: Adobe Bluffs, Canyon View, Deer Canyon, Los Peñasquitos, Park Village, Rolling Hills, Sundance, Sunset Hills, Black Mountain, Mesa Verde, Mt. Carmel, Westview.
---
Find the School Spirit Booth at the 21st Annual Fiesta on May 1, 2016.
Bonus donation: if you're wearing your school logo shirt when you make your donation, we'll give you a $1 matching donation!
---
This year you can pay online for early donations by using PayPal – just keep scrolling!
---
Make your early donation now!