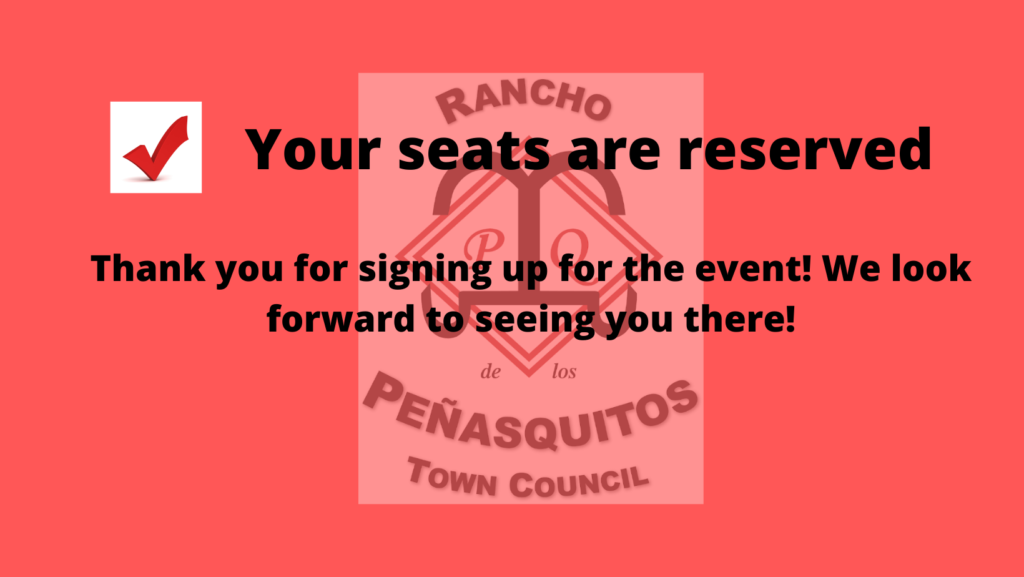 Congratulations!  Your seats have been reserved for the 5th Annual RPTC Disaster Preparedness Seminar
and the 20th Anniversary Remembrance Service of 9/11!
Thank you for signing up for the year's special 20th Anniversary 9/11 Remembrance Gathering that will be held on 9/11/21, at 9 AM.
And, thank you for your generous gifts shared for future events!  Your help makes a huge difference in our ability to serve our Community!
This is a Free Community Event!
LOCATION:  The Church of Jesus Christ of Latter-day Saints, Cultural Hall, 12835 Black Mountain Road, San Diego, CA 92129
9 AM – 9:45  Remembrance Gathering, Boy Scout Troop 667 Flag raising,
and a Special Message from Mayor Todd Gloria (joining virtually). Local Business Tables and Services.
10 AM – 12 PM    Disaster Preparedness Seminar with Councilmembers Marni von Wilpert, D-5, and Chris Cate, D-6.  
Presentations from the American Red Cross, Rancho Penasquitos Fire Safe Council, San Diego Police Department, San Diego Fire Department.
We look forward to seeing you on 9/11.  We will be practicing COVID SAFE protocols, Masks Required.
If you have any questions or concerns the fastest way to reach us is through
direct message on either

Facebook @rpcouncil

, or

Instagram @RanchoPenasquitosTown